The Story of Dr. Clarence Gonstead, D.C.
Dr. Clarence Gonstead redefined the nature of his profession and built a chiropractic Mecca in small-town Wisconsin. He continues to be one of the most influential figures in the history of Chiropractic and the Gonstead System lives as a shining example of the best that Chiropractic has to offer.
Gonstead grew up learning how to repair tractors and automobiles, an interest which foreshadowed his later accomplishments in applying mechanical principles to correction of the human spine.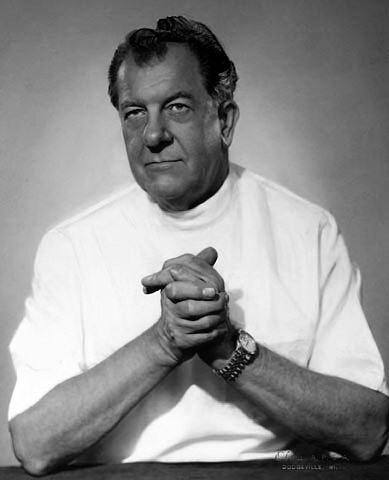 Gonstead was born on July 23, 1898 in Willow Lake, South Dakota. In his early years the family relocated to a dairy farm in Primrose, Wisconsin. At the age of 19, Gonstead contracted a crippling case of rheumatoid arthritis that left him bedridden for weeks. His aunt sought the help of her chiropractor, Dr. J.B. Olson, and after a course of adjustments he could walk again.
This was a life changing experience for Clarence; he enrolled in Palmer College of Chiropractic and graduated in 1923. During that time he worked as an automotive engineer; it cannot be understated how significant this mechanical experience was in influencing Gonstead to rethink prevailing ideas about the mechanism of subluxation. At the time B.J. Palmer's theory that the displacement of a vertebrae caused encroachment of the neural foramina was the predominate paradigm in the chiropractic profession. Dr. Gonstead challenged this notion though the application of biomechanical principles and clinical observation in practice. He introduced the Level Disc Theory that subluxation began at the disc where the inflammatory response from damaged tissue created "nerve pressure" resulting in the neurological complications associated with subluxation.
The assertion that the genesis of subluxation arose from disc involvement was indeed a revolutionary one. Dr. Gonstead created an entirely new method of correcting vertebral subluxation centered around this principle, the goal of which was centering the vertebrae on the disc to restore an optimal relationship. In this new system Dr. Gonstead pioneered several inventions to maximize the efficiency of detecting and correcting subluxations. His development of the Nervoscope enabled practitioners to objectively pinpoint the neurological components of a subluxation by measuring bilateral temperature differences in the spine, effectively 'troubleshooting' the nerves at each chord level. Also Dr. Gonstead designed the cervical chair and knee chest table enabled chiropractors to gain the necessary 'lift' in line of correction to center vertebra back on the disc, using gravity and spinal mechanics to one's advantage in applying corrective adjustments.
Dr. Gonstead became internationally renowned through determination and constant refinement of his craft. He built his clinic in Mt. Horeb Wisconsin, which at its zenith boasted an airstrip and hotel for patients who literally traveled the world to receive his care. It is said that Dr. Gonstead never went to bed on the same day that he woke up, adjusting patients all day long and often working late into the next morning. And it is a little known fact that during the polio epidemic that swept the United States in the first half of the 20th century, Dr. Gonstead did not lose a single patient to the disease.
Dr. Gonstead was a revolutionary in the way he changed our understanding of the mechanism of subluxation. But also he understood that subluxation was a complex rather than a single entity and therefore expanded a chiropractic system that analyzed a patient's problem through multiple diagnostic criteria and correlation of findings resulting in the most accurate possible diagnosis of a patient's specific problem.
"Remember Chiropractic always works. You may question your application, but never question the principle,"

- Dr. Gonstead
Through his legacy the Gonstead System remains the standard of excellence in the chiropractic profession and for all those who seek out Chiropractic.
Experience the Gonstead System for yourself by visiting your Glendive Chiropractor.
OFFICE HOURS
---
Monday
8:00am - 12:00pm
2:00pm - 6:00pm
---
Tuesday
8:00am - 12:00pm
---
Wednesday
8:00am - 12:00pm
2:00pm - 6:00pm
---
Thursday
Closed
---
Friday
8:00am - 12:00pm
---
Saturday
Closed
AFTER HOURS
Alternate Thursdays in Sidney:
10:00am - 12:00pm
1:00pm - 4:00pm
*Available by appointment only.